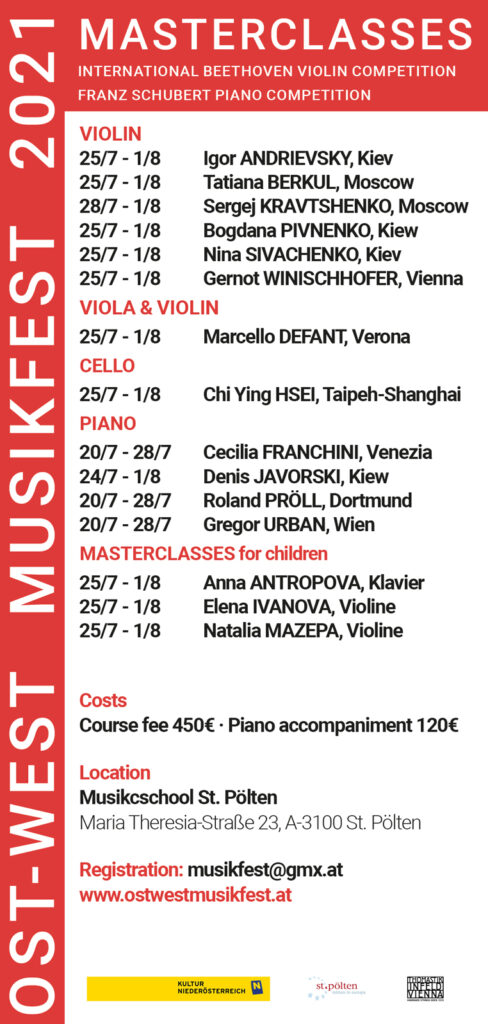 All musicians from 1 to 100 years are entitled to participate.
Students of the city of St. Pölten receive 50% discount for our master classes. Discounts for children are also possible.
There is possibility of an ARGE Donauländer scholarship.
We are happy to support you with more information!
Registration
1. Registration form
2. Send via E-mail
Please send the completed form by 1 July to:
musikfest@gmx.at
3. Course fee
The course fee should be transferred by 1 July to our bank account:
Account owner: Musikförderungsverein Ost-West
Bank: Erste Bank
IBAN: AT84 2011 1840 3407 5000
BIC: GIBAATWWXXX
or can be paid at our local office. In any case, it needs to be paid before the first lesson!
4. Accommodation
Please make your own reservation. We recommend the following accommodations:
Kolpinghaus Students Hostel
Kolpingstr. 1, A – 3100 Sankt Pölten, P: +43 (0)2742 77521
E: buero@kolp.at
www.kolp.at
single room/ double room with breakfast € 29 + €1,60 tax
Cityhotel Hauser Eck
Schulgasse 2, A-3100 St. Pölten, P: +43 (0)2742-73336,
E: office@hausereck.at
www.hausereck.at
---
Teachers 2021
---
ARGE Donauländer Scholarship
There is a possibility to receive a ARGE Donauländer Scholarship. Amount of the scholarship: maximum 1.000 €. There is no legal claim. The allocation is made according to the budgetary means.
Geographical area of ​​the scholarship:
Stays for the purpose of education, training and continuing education in the above-mentioned subject areas in one of the states in which there are members the ARGE Donauländer gives (outside the home country).
Member countries / regions:
Germany: Country Baden-Wurttemberg
Austria: Upper Austria, Lower Austria, Vienna and Burgenland
Czech Republic: South Moravia (Observers) region
Slovak Republic: Circles Bratislava, Nitra and Trnava
Hungary: Commune Györ-Moson-Sopron, Komárom-Esztergom, Pest, Fejér, Bács-Kiskún, Tolna and Baranya as well as the capital Budapest
Republic of Croatia: Counties (Županija) Osječko-Baranjska and Vukovarsko-Srijemska
Republic of Serbia
Bulgaria: Vidin, Montana, Vratsa, Pleven, Veliko Tărnovo regions, Rousse and Silistra
Romania: Caraş-Severin County, Mehedinţi County, Dolj County, Olt County, Teleorman County, Giurgiu County, Călăraşi County, Ialomiţa County, Brăila County, Galaţi County, Tulcea County and Constanţa County
Moldova
Ukraine: Odessa region
Links
Info sheet scholarship
Registration form Donauländer
Website ARGE Donauländer Scholarship
---
Location
Music school of the City of St. Pölten "Villa in the South Park"
Maria Theresia-Straße 23, A-3100 Sankt Pölten